Gather. The power of the future.
Sueda Co., Ltd. has started recruiting new graduates.In addition to new graduates, we also accept mid-career hires at any time. Please feel free to contact us.
Recruitment type
Bespoke furniture production
Employment conditions
18 to 30 years old (new graduates, inexperienced people welcome)
Work location
〒708-1115 790-1 Komo, Tsuyama City, Okayama Prefecture
treatment
・There is a salary increase
・Bonus twice a year
・Complete with various social insurance
・There is a retirement allowance system
・Car commuting is possible
Application method
Please contact us by phone and mail your resume.
Mailing address
〒708-1115 790-1 Komo, Tsuyama City, Okayama Prefecture To Sueda Ishihara Co., Ltd.
Contact
TEL:0868-26-4219
Message from seniors
We will deliver the messages of seniors working at Sueda Co., Ltd.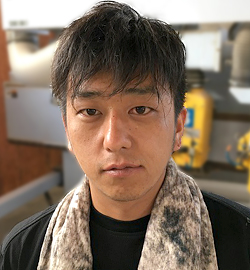 Daisuke Iwamoto
Woodworking Department Bespoke Furniture Division Factory Manager
I'm Iwamoto from the woodworking department.
I think furniture has a difficult image, but at first, the main tasks are monotonous work such as making parts, assembling, and trimming. Once you get used to it, you can do everything from wood removal to completion by yourself.
A drawing on a piece of paper becomes a finished product. The sense of accomplishment when I made it with my own hands is interesting. The machinery and equipment are substantial, and the size is perfect.
Why don't you make one piece of furniture in the world with all your friends?
Factory tour anytime!